Monroe County League Wrestling Championships
January 30, 2009 - January 31, 2009 @ Webster Schroeder High School (Webster, New York)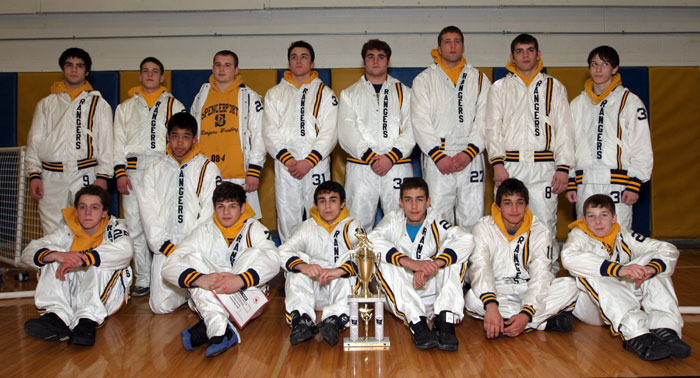 Team Champions
The #1 state-ranked Spencerport Rangers wrestling team won the Monroe County Tournament for the 19th consecutive season last night. Fourteen wrestlers from Spencerport received all-county honors for placing in the top six of their respective weight classes. Seven wrestlers reached the finals with five of them leaving victorious. Spencerport amassed 264.5 points, 101.5 more than second place Penfield's 163 points. Photo by Bob Baldino.
Slideshow: Finals





Slideshow: Bob Baldino Gallery (email: Bob@armdrag.com)








Varsity

Team Final

Spencerport 264.5, Penfield 163, Fairport 138, Hilton 135, Batavia 123, Greece Olympia 120.5, Brighton 113, Pittsford 104.5, Rush-Henrietta 99.5, Brockport 79, Churchville-Chili 71, Webster Thomas 59.5, Gates Chili 44, Irondequoit 42, Webster Schroeder 34, Victor 29, Greece Arcadia 24, Greece Athena 21, East Irondequoit Eastridge 9

Outstanding Wrestler Award (Lower Weights) - Mike Gentilcore (GO)
Outstanding Wrestler Award (Upper Weights) - John Velieri (Hilton)

Championship Final (1st)


Consolation Final (3rd)


Consolation Final (5th)



IF YOU HAVE ANY ADDITIONAL PHOTOS OR DOCUMENTATION FROM THIS EVENT, CONTACT INFO@ARMDRAG.COM.

Comments (Monroe County League Wrestling Championships)