41st Annual NYSPHSAA Intersectional Wrestling Championships
March 7, 2003 - March 8, 2003 @ Onondaga County War Memorial (Syracuse, New York)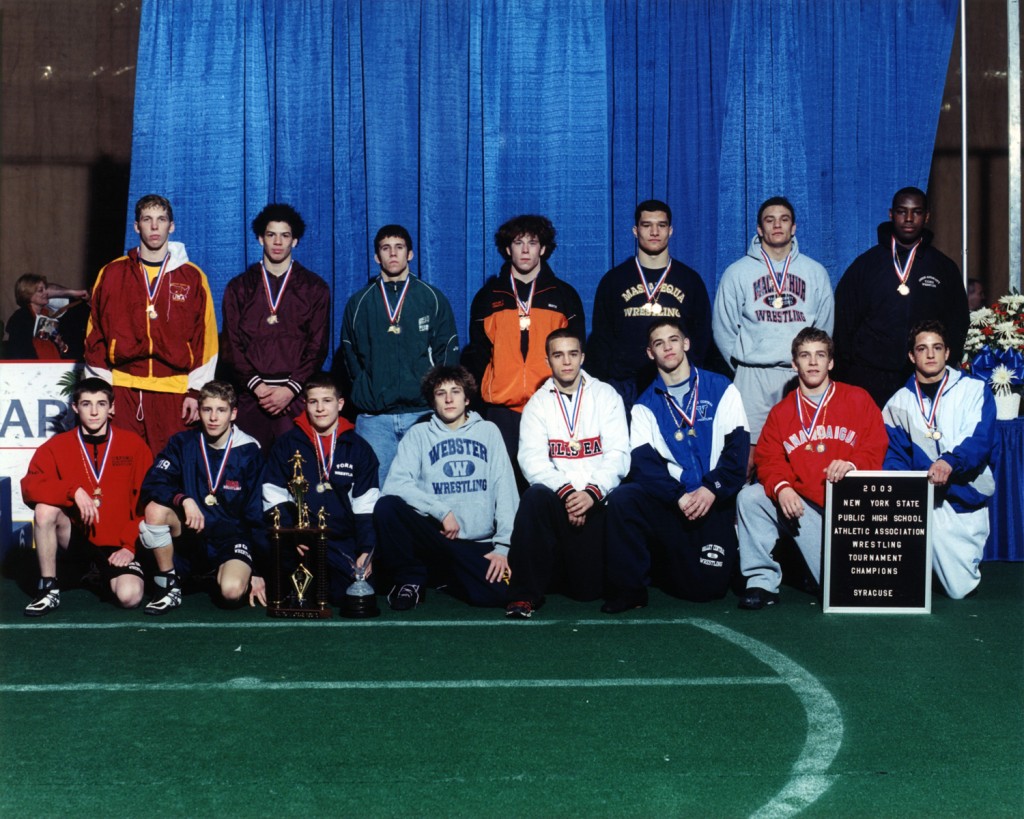 2003 NYSPHSAA Intersectional Wrestling Champions
Provided to armdrag.com by NYS Wrestling Chairman Reed Hawke. Click for larger image.


Slideshow: Democrat & Chronicle

Varsity

Teams

Attica, AuSable Valley, Averill Park, Bainbridge-Guilford/Afton, Baldwin, Bay Shore, Beekmantown, Bethpage, Brentwood, Brighton, Bryant, Canandaigua, Canastota, Canisius, Canton, Canton-Potsdam, Carthage, Chaminade, Chautauqua Lake, Chenango Forks, Clarkstown South, Colonie, Columbia, Copiague, Corinth, Cornwall, Croton, East Meadow, East Ramapo, East Rochester, Farmingdale, Fowler, Frankfort-Schuyler, Franklin Academy, Franklin D. Roosevelt (Brooklyn), Fredonia, Fulton, Garden City, Gates Chili, Glens Falls, Gouverneur, Grand Island, Greene, Half Hollow Hills - East, Harry S. Truman, Holy Trinity, Hornell, Hudson Falls, Huntington, Ilion, Islip, James Madison (Brooklyn), Johnson City, Kellenberg, Kendall, Kenmore West, Kingston, La Salle Institute, Lancaster, Levittown Division, Lewiston-Porter, Lindenhurst, Long Beach, Long Island City, Lowville, MacArthur, Mahopac, Massapequa, Mexico, Middletown, Midwood, Minisink Valley, Mohawk, Monroe-Woodbury, Morrisville-Eaton, Mount Saint Michael, New Rochelle, Newburgh, Newfane, Niagara Wheatfield, Northern Adirondack, Northport, Onondaga, Ossining, Oxford, Pembroke, Peru, Pine Bush, Plainedge, Pleasantville, Port Chester, Port Jervis, Riverhead, Rye, Salamanca, Saranac, Scarsdale, Schalmont, Scotia-Glenville, Sheepshead Bay, Shenendehowa, Smithtown, Somers, Spencerport, St. Anthony's, St. Francis, St. Joseph's, St. Mary's of Lancaster, Tioga, Tottenville, Tully, Unatego, Union-Endicott, Valley Central, Valley Stream South, Vernon-Verona-Sherrill, Wayne, Webster Schroeder, West Babylon, Whitehall, Whitney Point, William Floyd, Williamsville East

Region Final

Section IV 237, Section V 190, Section II 161, Section XI 154, Section VIII 148, Section III 144.5, Section VI 116.5, Section X 113.5, Section IX 105.5, Section I 70.5, Section VII 48.5, CHSAA 11, PSAL 7

Aggregate Pin Award - Arthur Jones (UE/Section IV)
Fastest Pin Award - Nick Price (Pembroke/Section V)
Outstanding Wrestler Award - Troy Nickerson (CF/Section IV)

Championship Final (1st)


Consolation Final (3rd)


Consolation Final (5th)


Championship Semifinals



IF YOU HAVE ANY ADDITIONAL PHOTOS OR DOCUMENTATION FROM THIS EVENT, CONTACT INFO@ARMDRAG.COM.

Comments (41st Annual NYSPHSAA Intersectional Wrestling Championships)