33rd Annual NYSPHSAA Intersectional Wrestling Championships
March 3, 1995 - March 4, 1995 @ Onondaga County War Memorial (Syracuse, New York)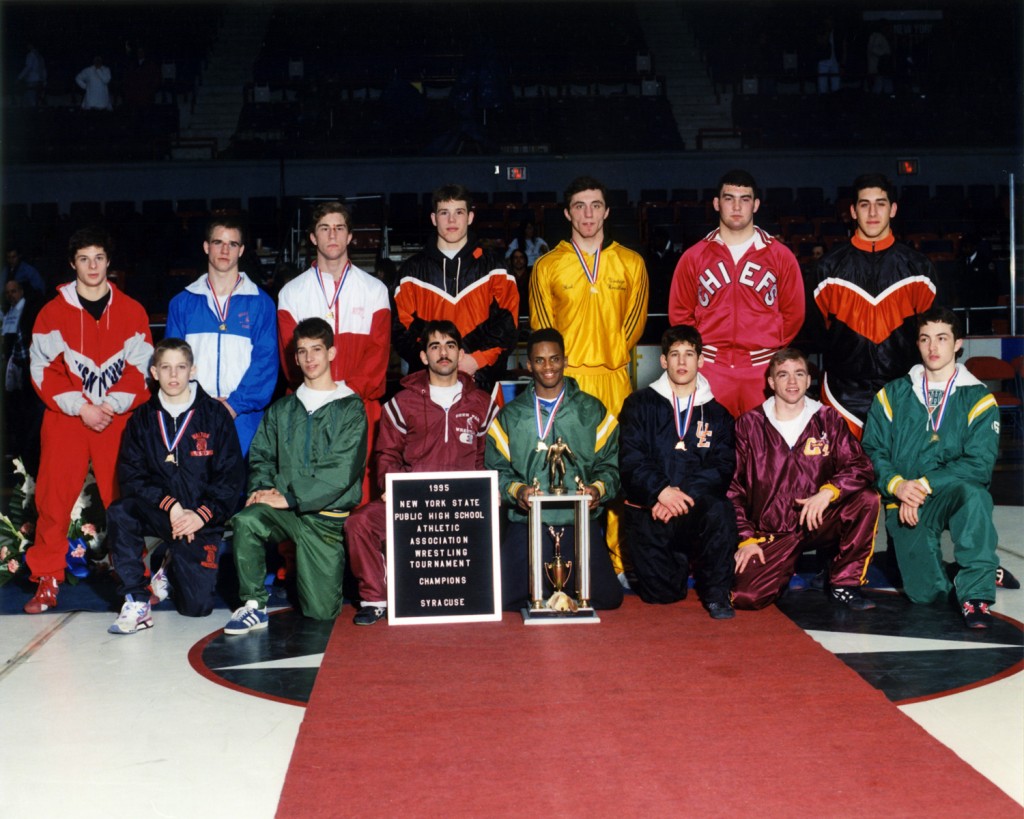 1995 NYSPHSAA Intersectional Wrestling Champions
FRONT ROW: C.J. MacNaught (4-Walton, Fr.), Trent Curry (7-Northern Adirondack, Jr.), Angelo Zegarelli (11-Deer Park, Sr.), Rason Phifer (11-Longwood, Sr.), Dylan Urban (4-Union-Endicott, Jr.), Ben New (3-Canastota, Sr.), Jeff Reese (4-Elmira Southside, Sr.). BACK ROW: Kyle James (2-Niskayuna, Sr.), Morgan Carey (1-Horace Greeley, Sr.), Jake Hoyt (4-Greene, Sr.), Eric Vaughn (6-Medina, Sr.), Nick Muzashvili (4-Unatego, Sr.), Seth Charles (7-Saranac, Sr.), Dan Poulsen (6-North Tonawanda, Sr.). Provided to armdrag.com by NYSPHSAA Wrestling Chairman Reed Hawke. Click for larger image.


Varsity

Teams

AuSable Valley, Bainbridge-Guilford/Afton, Ballston Spa, Beaver River, Bethpage, Byron-Bergen, Canastota, Canton-Potsdam, Christian Brothers Academy-Albany, Clarkstown South, Cornwall, Deer Park, East Meadow, Elmira Southside, Franklin Academy, Franklinville, Fulton, Goshen, Greece Olympia, Greene, Half Hollow Hills - East, Hampton Bays, Holley, Horace Greeley, Jamestown, Johnson City, Jordan-Elbridge, Lindenhurst, Lockport, Long Beach, Longwood, Lyndonville, Lyons, MacArthur, Massapequa, Medina, Middletown, Minisink Valley, Mohawk, Mount Sinai, Nanuet, New Hartford, Newfane, Niskayuna, North Tonawanda, Northern Adirondack, Ossining, Oxford, Penfield, Queensbury, Rocky Point, Sachem, Salem, Saranac, Shoreham-Wading River, South Jefferson, Suffern, Tioga, Unatego, Union-Endicott, Valley Central, Valley Stream South, Vestal, Walton, Warrensburg, Warsaw, Whitesboro, Williamsville South

Region Final

Section IV 208, Section XI 153, Section II 144, Section III 140, Section IX 120, Section VI 109, Section I 97.5, Section VIII 93.5, Section V 89.5, Section VII 89, Section X 22

Outstanding Wrestler Award - Rason Phifer (Longwood/Section XI)

Championship Final (1st)


Consolation Final (3rd)


Consolation Final (5th)


Championship Semifinals



IF YOU HAVE ANY ADDITIONAL PHOTOS OR DOCUMENTATION FROM THIS EVENT, CONTACT INFO@ARMDRAG.COM.

Comments (33rd Annual NYSPHSAA Intersectional Wrestling Championships)