NYSPHSAA Section V Class B Wrestling Championships
February 18, 2005 - February 19, 2005 @ Keshequa High School (Nunda, New York)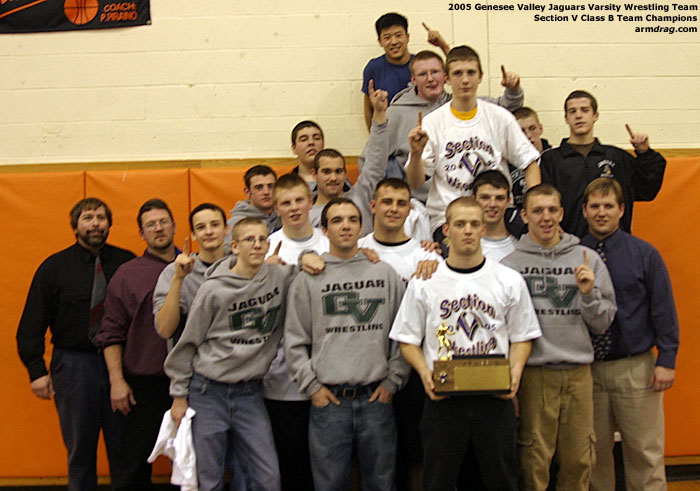 Genesee Valley Jaguars
Pictured at Keshequa H.S. after capturing the Section V Class B team championship. ROW 1: Shawn Biddle, Corey Presutti, Caleb Olcott. ROW 2: Coach Ron Fanton, Coach Mark Pecone, Chris Harrington, Max Evans, Gary Preston, Chris Green, Terry Lunn, Coach Matt Hopkins. ROW 3: Lance Pecone, Craig LaClair, Dan McGillivray, and Caleb Swann. Row 4 is: Andrew Sweezy, Chad McCaslin, Chris Waite. ROW 5: Jeff Robbins.
Varsity

Team Final

Genesee Valley 169, Jasper-Troupsburg 161.5, Lyndonville 147, Alfred-Almond 111.5, Hammondsport 106.5, Keshequa 94.5, Avoca 93.5, Geneseo 92, Fillmore 74, Red Jacket 73.5, Batavia Notre Dame 63, Cuba-Rushford 16

Outstanding Wrestler Award (Lower Weights) - Daniel McGillivray (GV)
Outstanding Wrestler Award (Upper Weights) - Caleb Olcott (GV)
Sportsmanship Award - Caleb Olcott (GV)

Championship Final (1st)


Consolation Final (3rd)


Consolation Final (5th)



IF YOU HAVE ANY ADDITIONAL PHOTOS OR DOCUMENTATION FROM THIS EVENT, CONTACT INFO@ARMDRAG.COM.

Comments (NYSPHSAA Section V Class B Wrestling Championships)