NYSPHSAA Section VI 46th Annual Wrestling Championships and 33rd Annual State Qualifier
February 23, 1996 - February 24, 1996 @ Alumni Arena, University at Buffalo (Buffalo, New York)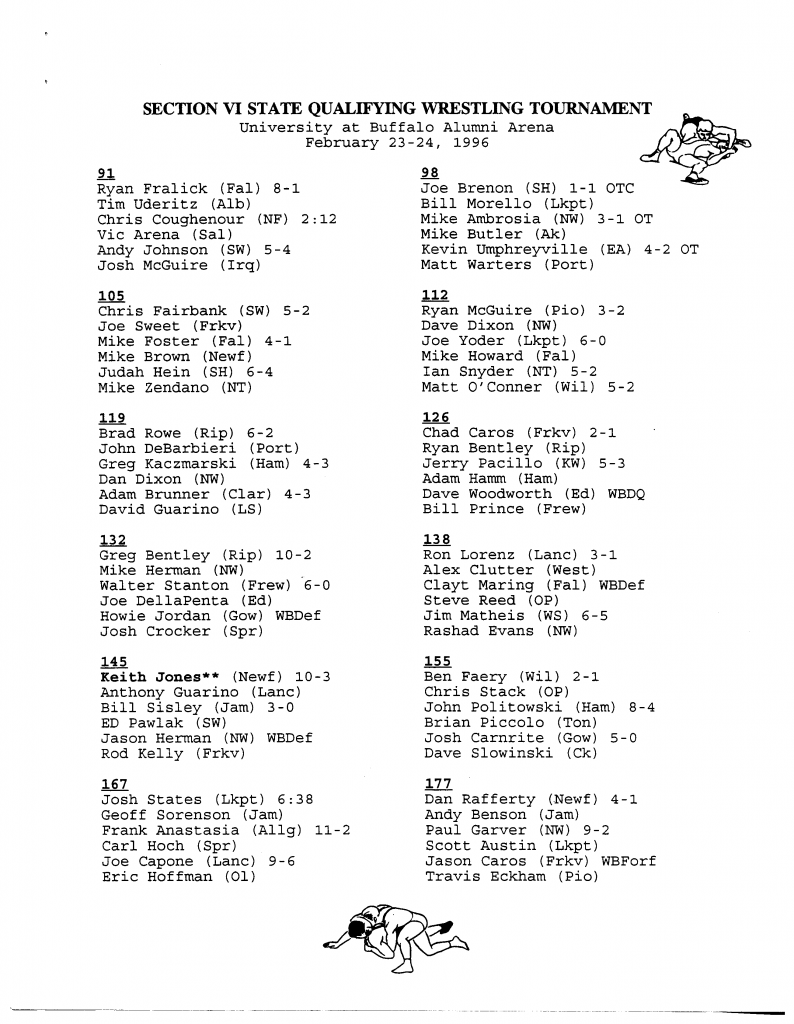 1996 Section VI Wrestling State Qualifier 1/2
SOURCE: Wrestling Review of Western New York, Vol. 8, No. 7, March 1996. Provided by Herman Guenther. Click for larger image.
Varsity

Teams

Akron, Albion, Allegany-Limestone, Cheektowaga, Clarence, East Aurora, Eden, Falconer, Franklinville, Frewsburg, Gowanda, Hamburg, Iroquois, Jamestown, Kenmore West, Lake Shore, Lancaster, Lockport, Maple Grove, Newfane, Niagara Falls, Niagara Wheatfield, North Tonawanda, Olean, Orchard Park, Pioneer, Portville, Ripley, Salamanca, Silver Creek, Southwestern, Springville-Griffith, Sweet Home, Tonawanda, West Seneca East, Westfield, Williamsville South, Wilson

Outstanding Wrestler Award - Keith Jones (Newfane)
Sportsmanship Award - Dale Parsons (Iroquois)

Championship Final (1st)


Consolation Final (3rd)


Consolation Final (5th)



IF YOU HAVE ANY ADDITIONAL PHOTOS OR DOCUMENTATION FROM THIS EVENT, CONTACT INFO@ARMDRAG.COM.

Comments (NYSPHSAA Section VI 46th Annual Wrestling Championships and 33rd Annual State Qualifier)