NYSPHSAA Section VI Wrestling Championships and State Qualifier
March 5, 1976 - March 6, 1976 @ Sweet Home High School (Amherst, New York)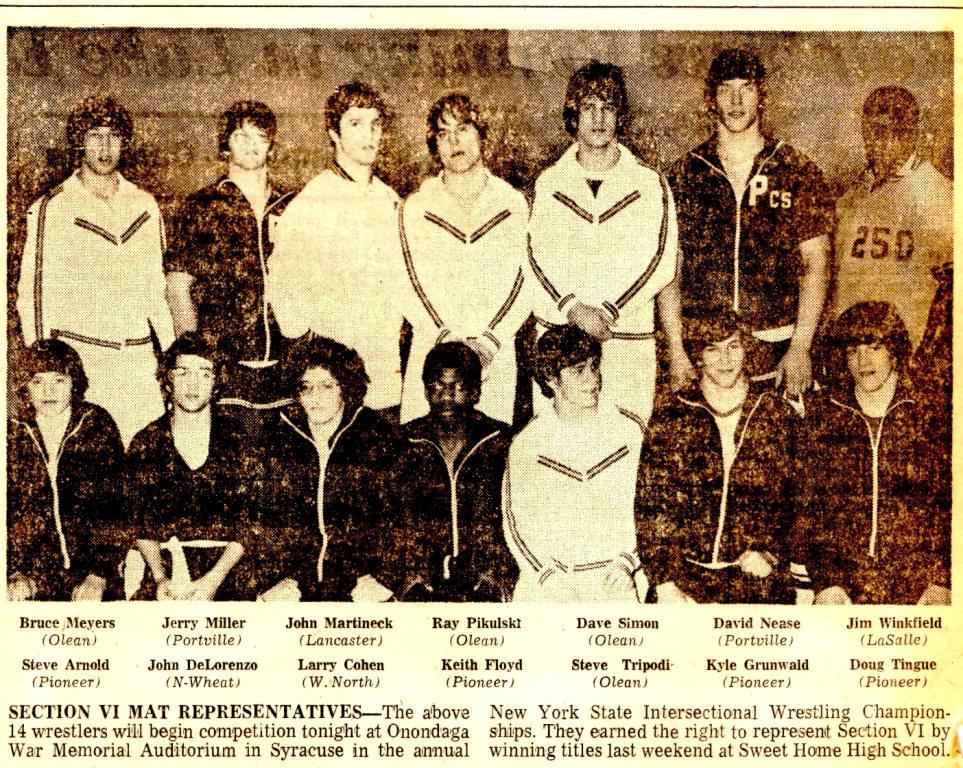 Section VI Mat Representatives
The above 14 wrestlers will begin competition tonight at Onondaga War Memorial Auditorium in Syracuse in the annual New York State Intersectional Wrestling Championships. SOURCE: Buffalo Courier-Express, March 1976. Provided by Rick Fie. Click for larger image.


Slideshow: Olean Times Herald
Varsity | Winners advance to NYS Intersectional tournament

Teams

Albion, Amherst, Cassadaga Valley, Clarence, Frontier, Grand Island, Hamburg, Iroquois, LaSalle (Niagara Falls), Lancaster, Maple Grove, Maryvale, Newfane, Niagara Wheatfield, Olean, Panama, Pioneer, Portville, Southwestern, Starpoint, Sweet Home, Tonawanda, West Seneca East, Williamsville North, Williamsville South

Outstanding Wrestler Award - Larry Cohen (WS)

Championship Final (1st)


Consolation Final (3rd)



IF YOU HAVE ANY ADDITIONAL PHOTOS OR DOCUMENTATION FROM THIS EVENT, CONTACT INFO@ARMDRAG.COM.

Comments (NYSPHSAA Section VI Wrestling Championships and State Qualifier)