NYSPHSAA Section VI Class AAAA Wrestling Championships
February 14, 1997 - February 15, 1997 @ North Tonawanda High School (North Tonawanda, New York)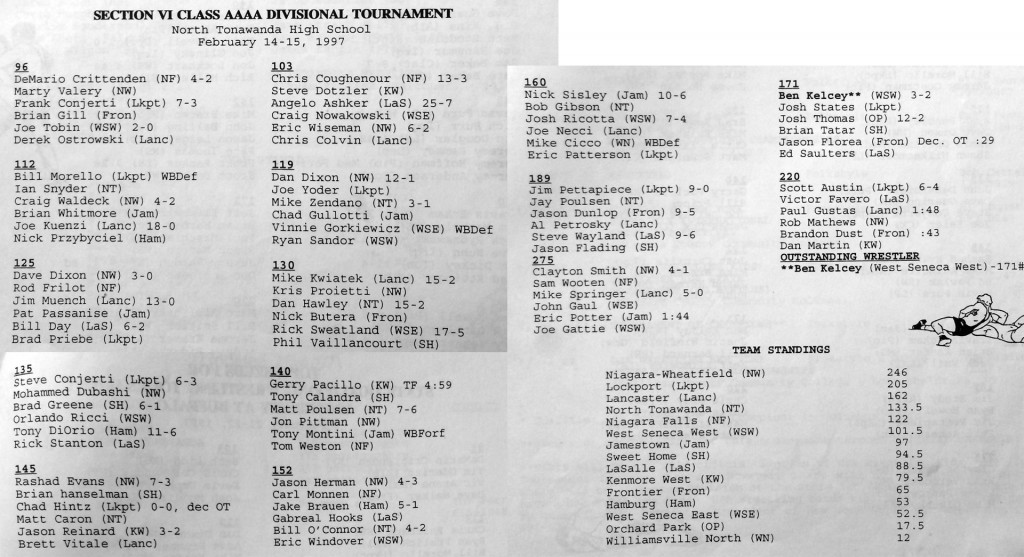 1997 Section VI Class AAAA Wrestling
SOURCE: Wrestling Review of Western New York. Scan provided by Michael Zendano. Click for larger image.
Varsity

Team Final

Niagara Wheatfield 246, Lockport 205, Lancaster 162, North Tonawanda 133.5, Niagara Falls 122, West Seneca West 101.5, Jamestown 97, Sweet Home 94.5, LaSalle (Niagara Falls) 88.5, Kenmore West 79.5, Frontier 65, Hamburg 53, West Seneca East 52.5, Orchard Park 17.5, Williamsville North 12

Outstanding Wrestler Award - Ben Kelcey (WSW)

Championship Final (1st)


Consolation Final (3rd)


Consolation Final (5th)



IF YOU HAVE ANY ADDITIONAL PHOTOS OR DOCUMENTATION FROM THIS EVENT, CONTACT INFO@ARMDRAG.COM.

Comments (NYSPHSAA Section VI Class AAAA Wrestling Championships)